Automotive Security Systems Nz Ltd
The only name you need to know for vehicle security.
     Specialising in car alarms and car Audio for over 38 years.        
 November Specials deals on many products on sale deals. Don't miss out on some get a deals and call us now.
Get in before christmas, massive Deals on many products ends end of month. 
Thanks to all our thousands of customers and the on going support over each year
Thanks from our team.
Call to book now, phone come to my mobile after hours.
In Auckland there is a major up turn in car theft at the moment AA says approx 96 cars a day. Also The theft out of vehicles is high ,especially builders, electricians and work vehicles are being hit for tools etc. 
Mongoose remotes M80 3 button red led on sale, for below cost, super special $51.75 each inc gst. Unheard of, normaly srr $90.00 each
THE TOYOTA AQUA IS THE MOST FREQUENTLY STOLEN VEHICLE AT THE MOMENT, AS PER THE POLICE, NZ HERALD ARTICLE, AMI April 2023 and they are being used for ram raids etc. They are easy to get in and start. Tell us you saw this on our website and get a special discount.
CALL US AND WE CAN HELP SORT SECURTIY,AS WE DO THESE VEHICLES ALL THE TIME. INSURANCE APPOVED ALARM WITH IMMOBLIZER, GLASS SENSOR AS MOST COMMON  WAY FOR ENTRY. SPECIAL ALARM SO DOES NOT CAUSE ANY PROBLEMS WITH THE CARS ELECTRIC SYSTEM.
   We are doing bookings and so get specials by calling us for help now.
   Call us on Ph.377-7716  steps to all our phone lines, also go to mobile after hours,for help onproducts and services we offer.
  We can do work at our workshop, booking required so pleasecall us on these phone numbers. Our phones go to mobile, for help and advise after hours so please call..
We are on call for help with alarms, we have many remotes if needed for most alarm brands etc, vehicle dash cam's, reversing kits etc 
LaboSpecials on most Products, running from the on many  alarms and other products etc. See our monthly specials, we can save you money. 
 See our monthly Special page as it has the l10 most stolen cars list].
We thank our customer's  for your suppot for over 38 years and for your ongoing support. Nz owned company
 Specials on many products this month, so get great savings, see our monthly special page to get major discounts on leading products. Many great products are on sale while stocks last, an alarm with over 30% off. Products at special discounts running,  i.e  Super madness deals,
Avs basic alarm super special, gear for a $245.18 inc gst and installation is extra cost. While stocks last so call us discuss your needs and to check this product will work in your vehicle.
G.p.s vehicle tracking unit, we have many models, one unit's start's from as little as $199.00 inc gst for gear. Installation costs on top.
Vehicle dash cam's recorders, reliable unit's, many models to choose, front only or rear and front camera systems.
We have a large range of replacement radio remotes for most car alarms in stock and free advice etc. Ph 09 915-3792 or
021-955424 we do a mobile service for lost remotes or just having a problem in Auckland, 24 hour-after hours service. We can service most brands of alarms so call us now help is free. 
Builders, plumbers, electricians, goods vehicles etc, Special alarm package deals, incudes a movement detector in the rear, to help with window coverage, targeting tools etc in your vehicle. Call us we can explain more, call us on [09] 377-7716,  note: goes to our after hours mobile when we are not open. Mobile installation service available.   
Camera Reversing kits sale, colour mirror monitor, camera, super deal starting from $440.00 inc gst installed at our workshop, see behind your vehicle for safety reasons and backing, parallel parking is a breeze and distance grid lines. 
We install 24v Trucks Alarm's, commercial reversing camera and monitor or reversing sensors kits call and we can advise options to suit your truck also motor home needs.
Beakon flashing roof lights for work vehicles, done many fleets, so we can help you with your needs.  
We have specials on Steal sheild basic alarms, call to inquire and mention that you have seen it on our web-site.
Car phone kits like hand free kits many makes like bury etc, also blue-tooth car audio systems, some parrot parts Call us for free advice.
We also offer a special rapid radio installation service at our office so just call us now for a booking.
Yes we do car audio as well see menu option to our stereo web site.
We do not take short cuts on installations, we fit all the gear so get it done right, we have the experience for over 37 years in the trade, retail etc. 
We can do many other products like car start units for some vehicles, beacon flashing lights, other vehicle add on's.
Check out if your car is one of the top ten stolen cars released, check out the news option on this site.
Lost your Car Alarm remotes or just need help with your alarm, we offer a full mobile service, including after hours-service option to help you get sorted and getting you on the road again. We are the specialist, holding stock of most brands for alarm remotes for your vehicles alarm so call us on 09 377-7716 or (09) 9153793 goes to mobile after-hours for help.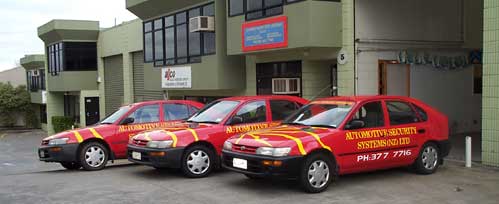 We are the specialist in the trade, retail products with a mobile installation service so we come to you or you can do it in our workshop.
See our Monthly discounted specials on major products.
We service all brands of alarms and have replacement batteries and we stock many parts.
Every day lots of cars are stolen in New Zealand! but there is so many more broken into for gear inside the vehicle and this is increasing.
We are suppliers of car alarms like MONGOOSE, AVS, CYLOPS, DYNATRON, STEAL SHIELD, MERIDIAN, UNIDEN, AUTOWATCH and Many others, GSM Text Pagers, GPS Tracking systems for vehicles, Dvr camera recording monitoring system, Truck alarms for 24V, running lights, Motorcycle Alarms, Boat alarms and many others vehicle security systems brands. We also supply and fit reversing sensors kits, reversing camera systems and car audio systems we have dash fitting kits with most accessories, hands free blue tooth car phone kits stereo's, radar detectors and hard-wired Parrot hands free kits plus we have other brands of car phone kits. 
CALL US NOW AND ASK US ABOUT OUR SUPER SPECIAL DEALS FOR THIS MONTH. 
Full mobile installation service on new alarm installs with our fleet of vehicles in Auckland (Bombay to Orewa)  
Hamilton metro area also has a mobile service too.
Check Insurance company incentives available for approved car alarm systems. 
Many of our products meet the standards set for car security in New Zealand and Australia. 
3 Star systems (AS/NZS4601):- engine immobilisers.
4 Star systems (AS/NZS3749 Class B):- engine immobilisers and basic alarm
5 Star systems (AS/NZS3749 Class A):- engine immobilisers and hi-spec' alarm
Automotive Security Systems (NZ) Ltd is involved with many Car Dealership Companies, O.E.M  installers like Subaru etc, Company fleets and with the general public since we started over 38 years ago and is possibly the oldest car security company around and we have done may firsts in this field in New Zealand.
Proudly New Zealand owner, manager. 
Over the years we have fitted alarms to armoured trucks, fleet vehicles like Tegal Foods, Lion Brewery, Blind Institute, Nuplex, the Jewellery trade, many builders, plumbers, electricians, couriers, Aon, building trade and many others and we offer a great back up service. 
Full warranties on all products (conditions as set out on product warranties apply). We guarantee all our workmanship

(conditions apply).

Vehicle alarm system is a major deterrent to car theft but may not prevent theft, like smash and grabs if gear left were you can see it.

Phone us now or by using the contact form in the menu for your vehicle security system or item you are wanting or for free advice.

We also specialise in Car audio systems. Please visit our other site www.autoaudio.co.nz for more information.
To all the thousands of customers we help each year, thanks you for your ongoing support.

Authorised Master agent for Mongoose, Avs, Master suppliers of Steal shield alarms and meridian alarm products.
MANY THANKS FROM ALL OUR TEAM for all your ongoing support.  Proudly New Zealand owned and run.


We accept VISA, MASTER CARD, CHEQUE, CASH, ONLINE PAYMENTS. 
5 / 21 Poland Rd, North shore, Auckland. New Zealand.     
P.O.Box 100909, North Shore Mail Centre, Auckland New Zealand
Office hours: Monday till Friday 8am till 5pm 
Saturday and Sunday by appointment.But phone are deverted into mobile for after hours. 
Phone Numbers are: go to sales on phone menu.
Auckland
Ph (09)377-7716, (09)443-7766, (09)263-6377, (09)827-7767, Hbc (09)426-2188, (09) 9153792
 After hours Help Ph 021-955424
Car Alarms, Car Alarm Remotes replacments, Reverising kits, Beacon flashing light systems, Spot lights. Air Horns, Central locking, Reversing Camera, Courier alarms, Van Alarms, Car Audio, Stereo's, Gps tracking, Navigation systems, Dash Cams. Car start modules gear for some vehicles.  
We are your people when it comes to car alarms, service work or fix ups on car alarms etc.
Click for mobile site