2.5 inch Colour Montor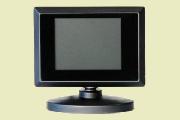 Model lcd250p
The LCD250P is a versatile 2.5 inch LCD TFT colour monitor.
This unobtrusive monitor is supplied with a pedestal mounting which can be detached to allow the monitor to be fixed onto a suitable flat surface. Included is a double sided adhesive pad.

Suits any of our Clearview colour reversing cameras.
May also be used with other video equipment.
srrp $169.00 inc gst plus fitting


Click for mobile site