4 star MCA500 Alarm/immobiliser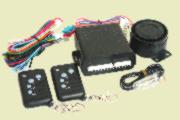 (MOTORCYCLE) APPROVED

MCA500 Model  SRRP $499.00 inc gst
Note: price can change depending of bike so call for Quote.
Mongoose STRIKER MCA500 is a compact simple to use yet well featured motorcycle / scooter / quad bike alarm system.
Protection against theft is by an engine immobiliser, a remote adjustable 8 level shock sensor, a seat pin switch and ignition ON trigger. Any heavy impact or shock to the motorcycle, such as taking it off the centre stand, will trigger the alarm.
The STRIKER is more than just an alarm and an immobiliser, it offers convenience features that make the use of your motorcycle more enjoyable.
An optional extra cost feature is the remote engine starter - just the press of a button on the remote and your engine warms up automatically - assuming of course your bike has electric start - and if you don't ride it, the engine automatically stops after 5 minutes!
OPTIONS;
FM pager - if your alarm is activated, you get paged, direct from the bike to you !
MTP-3 GSM mobile phone text pager - get warning text messages on your mobile phone if your alarm sounds or your bike battery is low.
Fit a Mongoose STRIKER alarm and get real security and more pleasure out of your motorcycling.

Features;
2 waterproof 4 button remotes
Small compact waterproof alarm module
Separate super loud siren
Built-in shock sensor - adjusted by remote
Built-in engine immobilisation
Light flash - confirmation and during alarm condition
Chirp confirmation of arm and disarm
Remote engine start (optional - motorcycle must have electric start)
Triggers from ignition, shock sensor, seat switch or optional tilt switch
Automatic arming - programmable
Automatic re-arm
Remote panic
Silent arm/disarm by remote
Remote key lockout (prevents someone using your remote)
Mercury tilt switch - optional (a must for bikes with only a side stand ).



Click for mobile site