Mongoose GSM tracker pager
Personal GPS Tracker 
lastest model  
Product Code: Pt301
Srrp $249.00 inc gst

This is one of the worlds smallest portable GPS trackers, is fully self contained and really affordable -  Mongoose brings you two essential products in one. It is a personal real time GPS tracker and an SOS emergency mobile phone - to call out or in.

Personal GPS tracker

This is an extremely versatile personal tracker that can be used by almost anyone, anywhere, anytime. Being smaller than most mobile phones, you can carry it on your person, in your or children's bags, for medical supervision of others, in your car, truck or boat, out biking, motorcycling, camping, walking, hiking, running, in parcels - it really has unlimited uses.

With real time GPS tracking, it always knows where it is - all you have to do is ask 'where are you?' (by calling or texting it) and the tracker replies by sending its GPS location by text message. Or, if you want, you can programme it with a simple text message to automatically report its location at whatever time interval you choose.

SOS 2-way mobile phone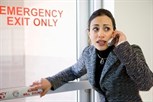 Got teenagers going out for the night ? Put one of these in their pocket and;

SOS Press the SOS button and the tracker makes a mobile phone call with two way voice communication so you know what the 'SOS' is about. At the same time, it sends its GPS location (latitude - longitude) by text message so you know exactly where they are, even if they don't !

This dual alert method not only informs you of the trackers exact location, but also what the SOS alert is about.

What's more, the tracker can be used just like a normal mobile phone - but only between the three 'users' programmed into it and the person with the tracker. Call uage is therefore restricted.

Any 'user' can make a voice call to the tracker as it rings (old phone ring tone) & vibrates like a normal mobile phone. If it is not answered within a few rings, it automatically connects so you can hear what is happening around the tracker. You never know, but the person with the tracker may not be able to answer, but you may be able to hear what's happening near the tracker.

There is no keypad, so outgoing calls can only be made to the 'users' in the sequence they were programmed.

How do I track it ? A couple of ways, both of which are very easy;

Manual Tracking: You can ask the location at any time by either calling by mobile phone or by sending a text message to the tracker. The tracker replies by text with its location by latitude and longitude. Just type the co-ordinates into Google Maps/Earth on any PC, laptop or GPS navigator to show the location.

Automatic Tracking: The tracker can also text you its location automatically at time intervals of your choice - from 1 minute to 99 hours apart - all controlled by simple text messages from your mobile phone.




•Real time GPS tracker
•SOS mobile phone - call out - call in
•Ring sound disable function
•Manual or automatic tracking
•Geofence - sets a restricted radius of movement - min' 100m
•Up to 3 mobile 'users'
•Password protected
•Low battery alert
•Power saver function - auto-on with internal movement sensor
•Communicates via GSM text or GPRS*
•Includes mains charger & car charger
•1 battery with up to 72 hours standby - 16 hours with real time GPS
•Requires a GSM SIM card
•NZ Telecom SIM cards not compatible
* GPRS communication possible.  

Click for mobile site