S5 Alarm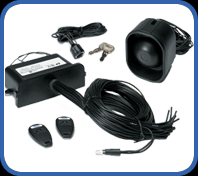 S5 model alarm installed  $749.00 inc gst plus options extra
Call us and get a price for install ing this model to your vehicle.
Map features so can use factory remotes.
The AVS S5 provides unparalleled protection for your vehicle. It is standards certified and has a five star rating.

The AVS S5 features three automatic immobilisers combined with an advanced glass break and shock sensor system and a data battery back up siren. In addition it has all the features you would expect from an alarm including keyless entry, door, bonnet and boot protection and a host of programmable options.

Certification
The S5 is certified to 3749.1:2003 Class A Intruder Alarm Systems - Road Vehicles
Certificate No: 722 Test Report XF2106/R2 

Alarm features:
Three automatic normally open immobilisers
Audio discriminating glass break sensor
Two stage shock sensor with ETS ™
Dual tone data battery back-up siren
Door, bonnet and boot protection
Central door locking from remote*
Two rolling code remotes (4 billion code variations) with built-in LED torch
Hyper blue LED warning light
Simple programming of features from remote control
PIN code override via ignition switch (63,000 possible codes)
PAT (Past alarm trigger memory)
Built in Turbo Timer*
Turbo timer interface
Can be controlled by your cars factory remote control
Tilt sensor standard

Programmable features:
Silent arm/disarm by remote or programmable
Door, bonnet, boot ajar warning (if a door is left open when armed)
Automatic re-arm/re-lock*
Electronic boot release output via remote control*
Door lock on ignition*
Perimeter night light on disarm
Interior light illumination
Timed headlight delay*
Remote panic/car finder function
Second vehicle control via single remote 

* Some vehicle's require additional components. 
Click for mobile site